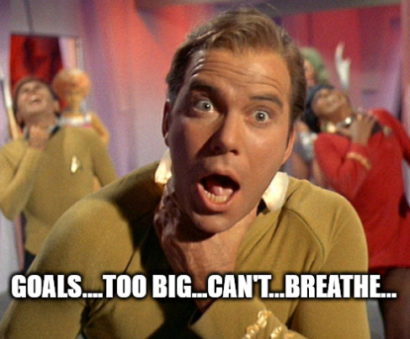 You know why so many people (insert some-totally-ridiculous-yet-fully-legit-statistic-like-ninety-percent-of-conscious-breathing-sentient-homo-sapiens) fail to see each year's resolutions all the way through?
Because them cold-weather-goals we keep setting are just too big, too vague, too dadgummed-mother-flipping-overwhelming to seem feasible.
'Course it's natural to get excited about potential life-change and become a-tad-shall-we-say-overzealous in your efforts. But going from zero-to-a-hundred-and-sixty all at once is a good way to fry the engine, run out of gas, and crap out half-way down the road.
Believe me on this one — I'm telling you from agonizingly, painfully, INTIMATELY personal experience!
While staring down the barrel of an aspiration, the last thing you want is to feel outgunned from the get-go. And yet, y'all new-years-overachievers act completely non-plussed when a super-size-me-style ambition like "get healthy" or "become organized" or "find my soul-mate" creates precisely that sensation of overwhelmed panic. I mean seriously — how exactly were you planning to tackle so monstrous a task?
Oh I forgot. You installed a cool new scheduling app on your phone — and signed up for the automatic-progress-tracker that's showing up on every interweb-expert's "top ten most amazing productivity" list.
Bring-a-pocket-blade-to-a-bazooka-fight, much?
I don't mean to besmirch your intentions — you, sir-or-madam, are an unstoppable beast. But admirable tho' these desires of yours are, they're too colossal, too gargantuan (too dare-I-suggest-brobdingnagian-and-risk-alienating-those-who-loathed-that-ninth-grade-english-class) for mere mortal consumption.
The key to motivation is making your yearnings seem as ACHIEVABLE as possible. You do that by dividing them into smaller single-serving-mini-goals. Instead of "get organized," try "clean out all the clothes that no longer fit" or "sort that paper-pile into 'to-do' stacks" — hell, even "put Timmy's school schedule on our family calendar" or "move sports equipment to the garage" gives you a more solid starting point!
Slay one tiny geico-lizard-sized-dragon first, then move on to the next.
That kind of progress too damn slow for your lead-footed tastes? Allow me to counter by suggesting that a consistent year of five-miles-per-hour equals more clicks on the old odometer than gunning it, losing control by around day three, and spending the next 51 weeks in a crumpled heap at the bottom of a ditch.
God, I loves mah hyperbole! (I also adores mah mixed-metaphors, in case you didn't notice.)
Throwing another figure-of-speech into the analogical blender (because really, why the hell not?) — subdivision is just as useful with tactical maneuvers as it is helpful to the overall battle-plan. Launching a full-out frontal assault exhausts your implementationary resources more quickly than deploying troops in waves. We're talking basic common sense, here — both militaristically and self-improvement-wise.
And it doesn't take a Napoleonic storm-into-Russia-as-overcompensation-for-an-inch-and-a-half-long-microphallus-type attack to get stuff done. You'll advance farther with a series of small consistent efforts, than by delaying your dreams until you can find days-or-hours-of-uninterrupted-free-time to work on them.
In summation — when you stop biting off more than you can chew, swallowing's a hell-of-a-lot easier.
Here endeth the lesson.
Click here for reuse options!


Copyright 2018 RamonaCreel.com