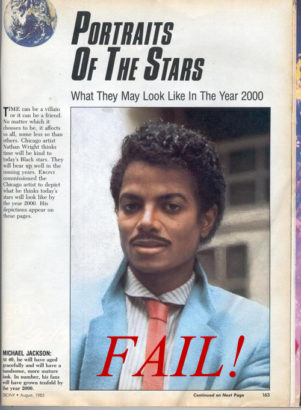 "I've failed before — more than once. It's become pretty danged clear to me that I'm incapable of doing (insert whatever life-change-objective has become an unbearable thorn in your side)."
Huh. Really.
Not to launch into a rant or anything (cuz lord knows we wouldn't want THAT) — but I must share how sick-to-freaking-death I am of this particularly tired, overused, give-up-without-ever-trying excuse for denying yourself a chance to have the life you always wanted.
I'm sorry, but that shit don't fly in my world!
We need to have what my deeply southern momma-n-em called a "come to jesus meeting" about falsehood masquerading as truism.
Please-please-pretty-please understand that Oprah-esque endorsement does not in any way make the pop-psych "previous behavior predicts your future" bullstein spewed by Dr. I-Ain't-Actually-A-Licensed-Practitioner-But-I-Play-One-On-Television (Phil, in case you didn't figure that one out)  fact.
Check the past-meets-prologue research — what's erstwhile ≠ destiny.
With that in mind, let's chat a bit about the reality of failing at your goals. Okay yes — you committed a regal pooch-screw while attempting to get skinny or organized or debt-free or higher-educated at some point in your exceptionally-checkered "before." (I'm talking you boned that canine repeatedly. With vigor.)
So fucking what?
Are you exactly the same person today as you were back then — some creepy arrested-development-dopelganger, twin to an earlier less-evolved version of yourself? Stuck in equivalent circumstances? Possessing identical neuronal circuits and thought patterns? With a carbon-copy collection of experiences tucked under that 80s-throwback cummerbund? Replicating your former daily habits and routines?
No. Just — no. HELLS no.
You're now a wholly-completely different human being (far wiser and more advanced). Why-then-in-the-name-of-all-that's-righteous-and-sublime would you judge yourself against this immature, underdeveloped yardstick? What you're comparing isn't just apples and oranges — it's dachsunds and buicks. (Not even close to a kingdom-phylum-class-order-family-genus-species-level-of-flipping-animacy match!)
However, Phillip Calvin "Get Real" McGraw's advice isn't 100% wrong. Gross oversimplification though he may've embraced, there's a truth-kernel buried deep in his motivational theory. I offer "Ramona's Three Immutable Laws Of Cutting Yourself Some Damn Slack For Past Mistakes" as a helpful codicil:
recent events weigh heavier than ancient history (when you start in with that resolutionary-crystal-ball-gazing, remember that last week's self-improvement efforts offer more relevant proclivital insight than the presumption that blowing it in college ruined your chances of success three decades later)
even a lifelong predisposition can be short-circuited (be-they-good-or-bad behaviors only become predictive when you're rewarded-or-at-the-very-least-not-punished for engaging in them — the minute you start attaching negative consequences, you destroy that habit's power over you)
Moral of the story? You're more than a knee-jerk-reactionary automaton — start acting like it.
Click here for reuse options!


Copyright 2018 RamonaCreel.com