Beyond Organized
(Giving Everything You Know About Simplifying Life
A Violent Shove Up To The Next Freaking Level)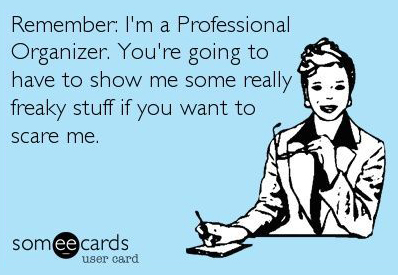 So you need some help getting organized and think that I might be the one to give you that? Wow, you are a glutton for punishment! Before you get caught up in the tangled web of profound-insight-meets-godawful-profanity that is "Ramona," I think it only fair that I share a bit about my background, my philosophy, the process I've been using with clients since 1998. These are just the highlights (so you know where I'm coming from) — but if you feel so inclined, you're welcome to read my entire life story here, here, here, here, and here.
At the time I started my business, hardly anyone outside of union politics had ever heard the term "Professional Organizer" before. (In fact, when I told strangers what I did for a living, they assumed I was a Hoffa-style labor leader, running picket lines and fomenting worker rebellion — yessir, I'm a kneecap-breaker!) But that was then, this is now, and overwhelmed folks are FINALLY asking for a little help — they're also asking a million questions about how I got into this business and why I do what I do for a living.
I self-employed in 1998, and have been a Professional-Organizer-cum-Accountability-Guru (I loathe the term "coach" with the very core of my being) ever since — same principles, different suck.
So welcome to my world, and yay you for recognizing that you need to make a few changes in your life. Seriously — that's a really big deal. Ya gotta admit to having a problem before you can actually take that first crucial step, and a lot of folks NEVER manage to get there in their whole lives.
Cutting Through The Clutter Maze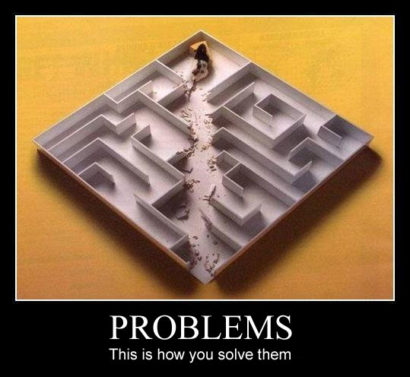 After you've been mired in clutter and chaos for a long time, you sort of stop noticing it. I don't mean the mess just magically goes away — all those stacks and piles and frustrations are still there. But over time, you mostly learn to ignore them.
It's like that chronic ache in your back. When the pain flares up, you feel like you really should get this looked at — then before you can schedule an appointment, that cranky nerve quiets down to a dull throb and you convince yourself to wait. It waxes and wanes, never getting bad enough for you to actually DO anything about it — until one day when you wake up totally crippled, kicking yourself in the ass for not having gone to the doctor sooner!
In every part of my life (but especially when holding clients accountable to their goals), I'm all about awareness. You can't fix a problem until you clarify it — so that's exactly what we're going to do here on the organize-and-simplify side of things. I've compiled a few handy-dandy self-assessment tools, designed to help you determine how serious your situation is (plus a couple-three suggestions for regaining control, to go along with each). No rules, except that you have to be 100% honest with yourself about what's not working — fudging the broken stuff ain't going to help any part of your life get any better:
Focus On The Stuff Just Ain't Enough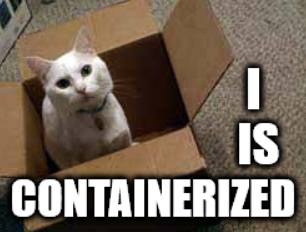 Throughout the years of working with clients (and along my own personal path to simplicity) I have discovered one universal fact about change — it has to be a holistic process. Adjustments in one area of your life are going to encourage shifts in other areas. And while having a functional filing system, an ergonomic workstation, a livable home space, and a productive schedule are important — man cannot live by organizing technique alone. You can be surrounded by order and still feel stressed out, overwhelmed, unhappy. Organizing is just the beginning — true simplicity requires a realignment of your priorities.
My goal is to root out clutter wherever it lives — be that in your finances, personal relationships, parenting skills, daily routine, business procedures, you name it. My job is not just teaching clients organizing technique, but providing ongoing coaching and guidance as they figure out what ELSE they want in life. Organizing has become a tool for achieving other goals — a means rather than the end in and of itself. I work with my clients on all sorts of tangential issues related to voluntary simplicity — reducing debt and achieving financial independence, changing careers, downsizing, making time and space for those passions that had fallen by the wayside.
I discovered that everything in life is about decluttering — cleaning out that which weighs you down in order to make room for the truly important things in life. Whether you're eliminating spending leaks, letting go of toxic people, learning how to say "no" to activities, or deciding how much house is "enough." Technically I'm a coach — but I hate that term. My true role is that of tutor, mentor, ass-kicker, fixer, problem-solver, finder of resources.
Is Your Life Cluttered?
Eating Great From State To State

Hiring Ramona To Help
A

F

O

R

S

O

Everything You Need To DIY
A

F

O

R

S

W

Click here for reuse options!


Copyright 2012 RamonaCreel.com