You're probably saying, "Hmmm…getting my life in order sounds good! But how does it work? What the heck will you do to help me that I couldn't do myself?" Good question! There is no one set "formula" for having the life you want — it's a very personal process, and the path is different for each individual. What works in your life may not be the same thing that works in mine — but what matters most is that YOU are happy with the results
Why You Need An Accountability Guru To Kick Your Ass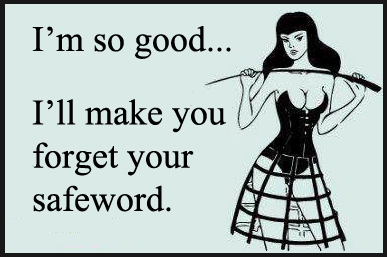 I can sum my services up in one simple equation:
Eliminating all those bullshit rationalizations + destroying fallacious myths about how life works = living in integrity.
But let's get one thing very clear — I am an Accountability Guru, not a "coach." Too many of my clients have had really-really-REALLY bad experiences working with supposed "coaches" — folks with no clue how to root out a problem or facilitate a major life change, who took a couple of active listening classes, hung out a shingle, and  (completely misinterpreting the "co-active" principle of letting clients find their own solutions) now spend their sessions performing an old-timey cliché of a psychiatrist saying, "Tell me more."
If you've been frustrated in the past by coaches who endlessly probe for inner strength and creative resourcefulness (without ever helping you land on an actual course of action), you're in luck — I take a far more directed approach. When I describe what I do with my clients, my best explanation is "remedial stop-bullshitting-yourself tutor." Yes, we'll explore your feelings and motivations and roadblocks — but then, we're going to take all those vague, nebulous inner sensations and turn them into concrete action steps. Then (and here's the most exciting part), you'll be expected to DO them. If all you want to do is talk, you might try calling that late-night-advice lady on the radio, instead.
The Value Of A Split Personality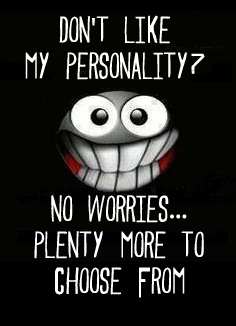 Do you need someone to support and affirm and validate you? Or someone to help you brainstorm new ideas and push beyond your current limits? Or someone who will call you on your bullshit and hold you responsible for achieving your goals? Maybe a little bit of each? Just call me Sybil!
While you'll always get a good solid dose of "Ramona" (not matter what hat I'm wearing), I own a lot of chapeaus — and I'm not afraid to use them! Depending on what's happening in our conversation, what kind of support you need (and how saucy I'm feeling that day), you might see me whip one of several different personas:
mentor

— she's the one who supports your wildest dreams (no matter how cuckoo they might seem to you), provides a safe space for wing-stretchage (while simultaneously shielding those feathered appendages from accidental amputation by a passing jetliner), and gives your goals a surrogate teat to suck (when it feel like yours has run dry) so they can grow up big and strong
visioneer

— your Mt. Neverest sherpa does whatever it takes to reach the summit, scouting new approaches (when the path you were on is leading straight toward a drop-off), helping maintain a focus-on-the-peak-while-taking-one-step-at-a-time sense of perspective, carrying baggage, fixing ropes (and physically dragging you up the cliff face by the scruff of your neck, if necessary)
taskmaster

— a wanna-be dominatrix (that I've lovingly named "Mistress Helga") who turns vague wishes into action steps, teaching you how to set and meet deadlines, making sure you complete your homework assignments (staying after school with this babe is AWESOME), using that sexy little riding crop of hers to keep you on-track-and-focused-on-the-carrot as you move forward
cheerleader

— this babe pulls out the crazy-ass pom-poms (mine are covered in glitter) and reminds you how freaking amazing you are, pointing out how much you've accomplished (when you appear to have completely forgotten your most awesome achievements) and giving that ego a well-deserved pat on the back (when it's tired of the endless butt-bruisings you administer)
Even Better Than 'Clean Sweep'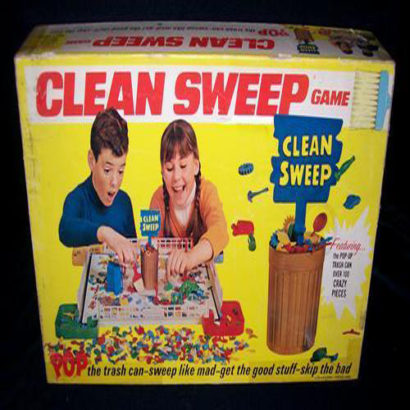 Some P.O's will offer to come in and organize "for" you. You don't even have to lift a finger — they'll do all the work. If you have an unlimited budget and don't mind a lifelong commitment to that organizer in order to control the chaos, then go for it. I, however, think that this approach is a mistake.
I believe in working "with" the client — you need to be involved in the process so you can learn the skills that will allow you to live clutter-free for years to come. My goal is for you to stay organized on your own, long after I'm gone — and isn't that what it should really be all about? Empowerment is the cornerstone of my philosophy (it's the Social Worker in me!)
When people find out what I do for a living, they often ask, "So it's like 'Clean Sweep' like on tv, right?" Wrong! Remember that those shows are just that — for show. They want a dramatic result in an hour, so they cart everything out of the room, set up some cool storage paraphernalia, and show you a pretty result. But they don't discuss the decision-making, follow-up, and maintenance processes that are required for long-term success. Organizing is only partly about shelves and containers — it is mostly about learning how to let go of clutter, changing the behaviors that cause chaos, and developing more constructive habits that will keep you organized after you turn off the TV.
Lugging all of your junk out to the curb and slapping on a fresh coat of paint might feel better for a few days, but it won't do much to improve your quality of life in the long run.  And simply removing the stacks and piles isn't going to solve your disorganization anymore than liposuction will keep you thin. If you don't change the behavior that caused the problem in the first place, the weight (and the clutter) will just come right back again. I find it interesting that these makeover programs never show you what the place looks like 6 months after the initial blitz — I don't care how amazing the transformation, that "quick fix" will come undone just as quickly if you revert back to your old routines! Instead of looking for a miracle cure, you would do better to think of working with a Professional Organizer like hiring a personal trainer at the gym. That trainer can help you achieve amazing results, but you can't expect to have a new body overnight. It takes time to burn away the flab and build up muscle — then you have to stick with it every day to maintain your results. It's the same with getting your life in order. It took years to create the clutter, it's going to take time to tame the chaos. But as your "trainer," I'm there to keep you on track and help you make faster progress than you would on your own.
Cure The Illness, Not Just The Symptoms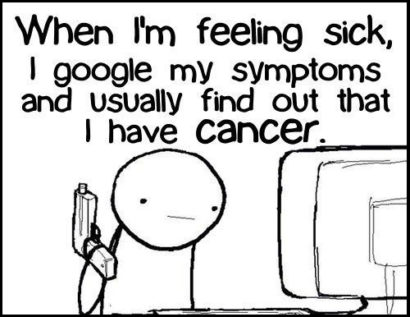 Please don't let this little diatribe discourage you — I promise that the clutter will go away, it's just not going to magically disappear overnight. My job is not only to re-arrange your environment, but also to discover the reasons behind your disorganization — why you accumulate things you don't need, why you have a hard time saying "no" when you're too busy, why you avoid dealing with that week-old stack of papers on your desk. You see, the piles aren't the problem. The overflowing in-box isn't the problem. And the constant tardiness is not the problem. These are all just symptoms of the problem. Something else is making your road through life bumpy, and I'm there to help fill those potholes — using tools like filing systems and closet organizers and your "to-do" list as hotpatch (how's that for a metaphor!) Together, we can create a lasting change in your environment that will encourage a permanent shift in your organizational habits.  But we need a few things to happen:
First, you must understand the "why" of organizing — I will evaluate your situation, listen to your concerns, watch you function in your daily life, and help to pinpoint exactly what is causing your frustrations. Then we will decide on the appropriate steps for tackling those problem areas.
Second, you must learn the "how" of getting organized — I will teach you  a variety of easy-to-understand organizing techniques that you can implement yourself. Do you hear that "yourself" part? You won't need to keep hiring an organizer to come back again and again — you will be able to keep it under control on your own.
Third, you will need to acquire (and learn to use) the appropriate organizing supplies — I will show you exactly which containers, shelving, racks, calendars, folders, desk accessories, drawer dividers, etc. will work for your situation (and tell you where you can buy them.) And whenever possible, we will find a way to use things that you already own, to save money.
Fourth, you will need to implement systems that will help you maintain the changes you've made — I will teach you proven methods for handling paper, managing your workload, scheduling activities, tackling projects, and staying on top of all your stuff, so that the clutter and overload and disorganization never come back again. Most importantly, I will help you simplify your daily routines so the "have-tos" take less time and energy (leaving room for the "want-tos" you never seem to fit in.)
My clients joke that a lot of what I do is ask annoying questions — "When are you going to use that again?" or "What purpose does it serve in your life?" or "What's the worst thing that would happen if you got rid of it?" But there's a method to my madness. I'm helping you to become aware of the traps you've fallen into over the years — the excuses you have for hanging on to things and paper and activities that do nothing to enhance your life (and may actually be detracting from it!) I'm forcing you to move beyond the clutter of indecision and make a conscious choice about what to keep and what to toss. I will never tell you to get rid of something you cherish, but I will ask you to articulate why something you haven't used in 20 years has value to you. Most importantly, I'm giving you permission to let go of any area of your life that isn't working.
Three Ways To Work With The Traveling Organizer
As the "Traveling Organizer," I work my way around the country in my Airstream — helping clients regain control over their time, paper, and space wherever I stop. If you would like to schedule some time with me as I pass through your town (or talk about long-distance coaching), I would be thrilled to help you create a little order in your life. I even offer a couple of different service options — depending on your goals, budget, and motivation level.
do-it-your-own-damn-self organizing plan — Some people need an organizer to guide them through every step — others would be happy to tackle the stacks and piles themselves, if they knew what steps to take or where to begin. If you're you are willing to take on more responsibility for the result, I've created a consultation package for the thrifty and self-motivated. It lays out a customized "blueprint" for you to follow — then you're in charge of completing the assigned organizing tasks (cleaning out storage spaces, sorting papers, setting up closets and cabinets) yourself. This way, you get the benefit of my knowledge and experience at a much more affordable price.
the long-distance-virtual-fix-your-life option — What if you need a little support getting organized on your own? I'm happy to guide you through all the decisions, the systems, and the clutter — from a distance. I'm there helping you, giving you full access to my expertise the whole time (but without the expense of my having to be on-site). Before each organizing session, you'll e-mail me photos and a brief description of the issues you face in the area we're tackling (if you've purchased a D.I.Y.O.D.S. organizing plan, we'll be working off of that). You'll need a headset or speakerphone, so we can talk as we organize. I'll be right there with you at your side, helping you tackle those piles and stacks, sorting and purging and re-arranging — asking all those annoying questions that help you make smart decisions, describing how to set up new systems, providing you with the guidance and encouragement you need to succeed. This service is scheduled in 1 hour sessions — minimum of one session a week for the length of your organizing project, so you continue to make forward progress and don't backslide into clutter again.
hands-on-in-person organizing — Whenever my full-time RVing heinie is passing through your town, I'm happy to visit your home/office and organize you in-person — check my itinerary to see where I'll be in coming months. I serve as a combination therapist, interior designer, and manual laborer — brimming with expert advice, able to motivate just about anyone into action, but also willing to get my own hands dirty. I'm not afraid to dig through the piles, I excel at helping people make those hard choices about what to keep and what to toss — and most importantly, I'm willing to sweat to make a clients' dreams come true!  While I do expect you to be part of the organizing process (and I will ask you to flex that decision-making muscle more than you might like), I am happy to do all the hard work — you will never end up with a strained back during one of our sessions! I will even shop for organizing supplies (if we need anything that you don't have on hand), and haul off the "discards" for you (donating what I can, recycling what I can't, and sending you the tax receipt for your records) — all at no extra charge. How could you get more full-service than that?
the joy of educational non-monogamy —
What A Match Made In Heaven Looks Like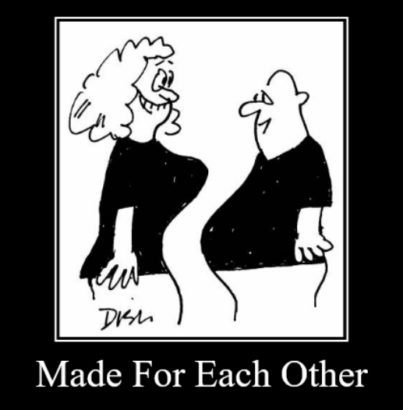 One thing I've learned over the years — not every client is a good match for my style.
Here's a quote from one of my favorite organizing clients regarding our time together:
"You have helped me through one of the most difficult times of my life. Talking with you gave me something to look forward to doing. Your assignments added some order to the chaos that I was experiencing, giving me something to work for and towards. As you have said, getting started is the hardest part, and now that I've done that, I know I'll be able to continue making progress. Thank you for ALL of your help and encouragement! I thoroughly enjoyed our visits and found them more helpful than you can imagine or that I can put into words!"
Pretty powerful, huh? Are you ready to begin? Drop me a line!
Click here for reuse options!


Copyright 2010 RamonaCreel.com
Ramona Creel is an award-winning 15-year veteran organizer and member of the National Association Of Professional Organizers. As well as having birthed "The A-To-Z Of Getting Organized," Ramona is also the author of "The Professional Organizer's Bible: A Slightly Irreverent And Completely Unorthodox Guide For Turning Clutter Into A Career"—and the creator of more than 200 "quick-start" business tools and templates for use by productivity professionals. She writes seven different blogs, has worked with hundreds of clients, and has delivered scores of presentations on getting organized. Ramona resides on the roads of America as a full-time RVer—living and working in a 29-foot Airstream. Learn more at and RamonaCreel.com.

If you would like to reprint this page, please contact me