At the time I started my business, hardly anyone outside of union politics had ever heard the term "Professional Organizer" before. (In fact, when I told strangers what I did for a living, they assumed I was a Hoffa-style labor leader, running picket lines and fomenting worker rebellion. That's me — I'm a kneecap-breaker!) Even my own chronically-disorganized mother couldn't imagine my getting paid to help folks declutter. That was then, and this is now.
Cutting Through The Clutter Maze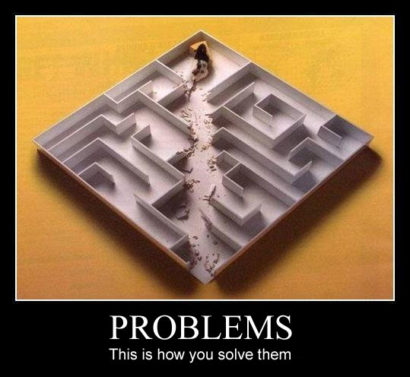 Organizing has come into its own because we've finally admitted that society is suffering from a debilitating illness — and this rising demand for expert help is our way of seeking treatment. But why the heck are we all so overwhelmed these days??
I have a few thoughts on the subject (because really, when DOESN'T this babe have a few thoughts on any subject?) If any of what I'm about to say sounds like your life, you'll find a few handy-dandy self-assessment tools at the bottom of the page — designed to help you determine how serious your own situation is. (Oh, and I'll also offer some suggestions for calming the chaos and regaining control):
we suffer from urgency addiction — There's no doubt that the human race is moving at a more frenzied pace than ever before. Technology-that-follows-you-everywhere has trained others to expect (nay, demand) an instant response to every request — and a single day's turnaround time is considered a luxury by contemporary standards. We've become a stable of 24/7 beck-and-call girls (as well as boys), answering to a merciless electronic pimp. And along the way, homo sapiens have developed a near-compulsive (and semi-pathological) attraction to stressful situations. Those who routinely live in crisis mode become unhealthily hooked on that "high." Like a junkie who can't quite break the habit, we keep going back to score another hit when we're jonesing for that adrenaline fix. Too bad Big Pharma hasn't developed a methadone for urgency addiction!
we don't stay home all day anymore — The days of spending your life as a full-time live-in unpaid maid just because you have a vagina are (blessedly) a thing of the past — Donna Reed has hung up her apron, and June Cleaver's days of vacuuming in high heels and pearls are over! I personally get down on my knees each night to thank Gloria Steinem for giving me career options other than "housewife." But when you're so busy bringing home the bacon, who has time to cook it? The holding down of a full-time job (at least the way things are done these days) makes it hard for anyone to keep a house in order — whether singleton, a pair of DINKs, or a traditional nuclear grouping. Cleaning, meals, laundry, errands — no wonder folks need help staying on top of it all!
we're working more hours to accomplish less — I'm all for the Protestant work ethic, but our species has officially taken this idea to a harmful extreme. These days, 85% of men and 66% of women in the U.S. work more than 40 hours a week — why all the overtime? It's because much of our day is wasted on less-than-fruitful activities — and it's taking us longer to get the job done. Our days are spent shuffling TPS reports (any Office Space fans out there?), attending pointless meetings, and searching for a lost stapler — when if we could just spend more of our "working" minutes completely focused, we'd all have the 10-hour week the good lord intended.
we're trapped in a hyper-materialistic society — A three-channel TV and a family sedan used to be all the material comfort anyone needed (according to Atomic Age standards of affluence) — but that was before Madison Avenue talked us into trading true prosperity for copious amounts of unnecessary stuff. We swallowed that yuppie bullshit about "whoever dies with the most toys wins," hook-line-and-sinker. And now we're paying the price in terms of clutter. A hundred years from now, anthropologists studying ancient closets (in order to learn about our spending habits and unfulfilled dreams) will view the "layers" of belongings like rings on a tree — oldest at the bottom, with consecutive years' worth of junk spreading up and out from the center!
we have unrealistic expectations — When you live in a land of endless opportunity, you're taught that you can have anything, do anything, and be anything that you want — what they don't tell you is that you can't have, do, or be it all at the same time. We humans, bless our pointed little heads, are eternally optimistic about our capabilities and absolute rubbish at drawing boundaries. (Always a fatal combination!) This is especially true for women — ever since the sexual revolution, the XY-set has bought into the entirely ridiculous notion that successful females must be all things to all people at all times. If you can't raise 2.5 children while running your own company, look like a supermodel while earning your PhD, or balance the books while serving on 23 committees (AND still finding time to bake homemade cookies every day)—you're falling short. Keeping up with the Joneses now means comparing busy schedules, one-upping other folks' stress levels, and wearing "hectic" like a badge of honor. You know what I say to that? Malarkey!
we've allowed Attention Deficit Disorder to become a modern-day plague — Diagnosis rates are rising by more than 5% a year, and there's been a 700% increase in stimulant prescriptions for minors since 1990. What the hell?! Has something happened to young peoples' brains, making our offspring universally impossible to control without drugging them? Or is it possible that some other factor could be to blame? Do we all-too-quickly label overly-energetic-poorly-disciplined-less-mature tykes as "medically impaired?" Is the entire population suffering from a societally-induced lack of focus (brought on by inadequate sleep, caffeine/sugar-laden diets, short-attention-span entertainment, and electronic overload)? Is the next generation being crippled by a nation full of "workaholic-stressed-out-boundary-free-so-how-can-they-guide-their-progeny" role models? And can these poor lost souls be taught to function more effectively through a little organizational retraining rather than Ritalin? All of the above! I pull no punches — it infuriates me that a bunch of twitter-addicted-starbucks-infused poseurs are bogarting the attention (pun entirely intended) away from those who suffer legitimate brain dysfunction.
we're teaching poor organizational habits to our children — Even kids who aren't diagnosed with a pharmacologically-profitable "syndrome" are pushed toward disorganization by society. We buy young-uns enough toys to last three lifetimes — then complain when their playthings are scattered all over the house. We leave our offspring in the care of net-nannies and boob-tube-babysitters — then bitch when they can't focus beyond the length of a commercial. We assign six-year-olds more homework than I had in grad school and fill their "free time" with endless activities — then chastise them for not getting their chores done. The mixed messages you receive when you're little follow you for the rest of your days, hosing all your best efforts to stay organized as a grown person. (Think about how different kids' lives would be if someone taught them early on that organizing is fun—if parents didn't sent them to clean their rooms as a punishment!)
we face an unprecedented level of information overload — These days, the average person is exposed to more than 100,000 words a day — that's 175 newspapers' worth of info. (Or to put it in a slightly more frightening context, the equivalent of covering the continental U.S. and Alaska in a seven-foot-high stack of Twilight novels!) This unfettered access to data is a godsend for "informavores" like me, who consume facts rather than food. But for most folks, it just leads to a bad case of information overload. The larger problem isn't quantity so much as quality. Who needs to hear the same supremely unfunny joke 27 times in one day? To have an in-box full of spam ads for viagra? To be informed of a celebrity's implants "breaking news?" Finding meaningful information in this "data fog" is harder than locating a designated driver at a frat party! Eventually, our minds end up so cluttered with irrelevant crap that we have trouble keeping track of the important stuff. More becomes less, as evidentiary overwhelm kills our collective attention span—and dumbs our communications down to 140-character illegibly-abbreviated tweets.
It's true that teaching my clients better organizational skills, setting up more appropriate systems, and helping them understand basic organizing principles are all key — but these issues represent just a few scattered pieces from much larger jigsaw puzzle. In most instances, their frustrations are the inevitable by‐product of unrestrained technological advancement, rampant prosperity, and badly misplaced values — so the most important thing I can help them do is draw better boundaries. So let's figure out exactly where you need to do that yourself:
Save
Save
Save
Save
Save
Save
Save
Save
Save
Save
Save
Save
Click here for reuse options!


Copyright 2014 RamonaCreel.com
Ramona Creel is an award-winning 15-year veteran organizer and member of the National Association Of Professional Organizers. As well as having birthed "The A-To-Z Of Getting Organized," Ramona is also the author of "The Professional Organizer's Bible: A Slightly Irreverent And Completely Unorthodox Guide For Turning Clutter Into A Career"—and the creator of more than 200 "quick-start" business tools and templates for use by productivity professionals. She writes seven different blogs, has worked with hundreds of clients, and has delivered scores of presentations on getting organized. Ramona resides on the roads of America as a full-time RVer—living and working in a 29-foot Airstream. Learn more at and RamonaCreel.com.

If you would like to reprint this page, please contact me