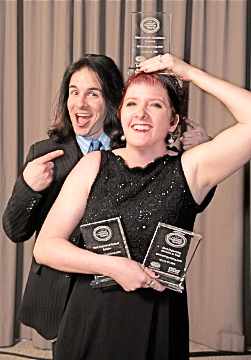 Working for yourself, being your own boss, calling your own shots — that's truly the American dream! I've been doing it since 1998, and you couldn't pay me enough to go back to working for someone else. (Well, you could, but it would have to be a LOT of money — so much that I could quit after one year, never have to lift a finger again, and be set for life!)
But creating a self-sustaining, long-lasting, rock-solid commercial enterprise involves a lot more than just having a particular skill or expertise. Michael Gerber was right — being a technician and being an entrepreneur are NOT the same thing. (Go read The E-Myth, if you have no idea what I'm talking about.) You can be the greatest at whatever it is that you do (organizing, coaching, corporate training, bookkeeping, project management, graphic art, interior design, public speaking, whatever) and still fail — if you don't know how to run a business.
My job is to teach folks how to follow their bliss all the way to the bank — by offering practical, concrete, actionable steps for turning a passion into a career. What qualifies me to do this? I practice what I preach. My self-employment has been supporting me financially for more than a decade and a half, I successfully sold my first company for a sizable profit (and recession be damned, I did it right in the middle of a big economic downturn), I've won numerous industry accolades (as evidenced by this completely ridiculous picture with Hal Sparks at the LA Organizing Awards), and I'm considered something of a thought-leader/innovator by my colleagues — hell, I wrote the book on how to become a Professional Organizer! But most importantly, this is my calling. There's nothing I love more than helping coaching clients from a variety of backgrounds and disciplines create their own personalized definitions of success — then structure their lives and business pursuits to align with and support those goals.
Perhaps you're considering starting your own consulting or freelance business — or maybe you've been "self-employed" sort of on-the-side-off-the-books-skimming-under-the-radar for a while, and you've finally decided to go legit. I can help jump-start your efforts:
Click here for reuse options!


Copyright 2012 RamonaCreel.com
Ramona Creel is an award-winning 15-year veteran organizer and member of the National Association Of Professional Organizers. As well as having birthed "The A-To-Z Of Getting Organized," Ramona is also the author of "The Professional Organizer's Bible: A Slightly Irreverent And Completely Unorthodox Guide For Turning Clutter Into A Career"—and the creator of more than 200 "quick-start" business tools and templates for use by productivity professionals. She writes seven different blogs, has worked with hundreds of clients, and has delivered scores of presentations on getting organized. Ramona resides on the roads of America as a full-time RVer—living and working in a 29-foot Airstream. Learn more at and RamonaCreel.com.

If you would like to reprint this page, please contact me