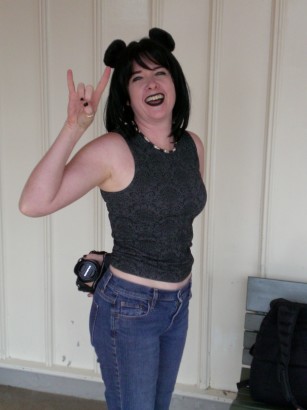 As I full-time RV my way around the country, I'm asked over and over again about my reproductive state of affairs — 'cuz you know, that's what small talk with a total stranger looks like in 'Merica! When I say that I'm "child-free," I'm often met with a blank stare and an open mouth (especially in the midwest and the bible belt). Apparently, the idea that you might not have any interest in duplicating yourself is an entirely foreign concept to the majority of mainstream suburbanites. As I explain my non-natal existence on this planet (usually for what feels like the 895th time that day), some are fascinated by the possibilities of life sans offspring — but others can't even begin to understand why you'd ever make such a bizarre choice. Fortunately, the second group is relatively small and rarely encountered (at least by me). But for these folks, I've developed a fun little song-and-dance to dispel the prejudices they may have against non-parenting.
I talk about all the positive motivations for not breeding — freedom to travel, time for my own creative projects, opportunities for self-employment, fewer expenses, less frustration and clutter. I describe living and working and seeing the world in an Airstream (pointing out that this kind of lifestyle wouldn't be even remotely feasible with a bunch of house-apes in tow). I clarify why I call it "child-free" rather than "childless," and explain that I don't hate those adorable little nipple-nibblers — I just don't need them in my house (throwing temper tantrums and asking for the car keys and wanting to be sent to college) to make my time on earth complete. By the end of the first act, these people think I'm the coolest thing since sno-cones for having the courage to buck the system! So if you just don't "get" the whole lack-of-a-biological-clock thing (and aren't where I can perform for you in-person) — enjoy the show!
I also meet a good many potential no-kidders who're considering voluntary childlessness — if you're in this category, you are welcome here! You might just be exploring your options, searching for new ideas and opinions and information — I'm happy to serve as both a resource and a bad influence. Or you may have already vetoed the joys of baby-brain, nixed the possibility of diaper-whippage, and grown extremely weary of the flak you keep getting for your decision. Now you're on the lookout for a little camaraderie and support, as well as some solid intellectual ammunition to pack in your arsenal — bullet-proof rebuttals you can pull out during the next mommy-mafia-style attack on your "anti-family" choices and "selfish" lifestyle. I'm loaning you the virtual equivalent of an M8 armored tank equipped with heat-seeking nuclear missiles and electrothermal-chemical guns — go forth and fight the good fight!
Click here for reuse options!


Copyright 2012 RamonaCreel.com
Ramona Creel is an award-winning 15-year veteran organizer and member of the National Association Of Professional Organizers. As well as having birthed "The A-To-Z Of Getting Organized," Ramona is also the author of "The Professional Organizer's Bible: A Slightly Irreverent And Completely Unorthodox Guide For Turning Clutter Into A Career"—and the creator of more than 200 "quick-start" business tools and templates for use by productivity professionals. She writes seven different blogs, has worked with hundreds of clients, and has delivered scores of presentations on getting organized. Ramona resides on the roads of America as a full-time RVer—living and working in a 29-foot Airstream. Learn more at and RamonaCreel.com.

If you would like to reprint this page, please contact me