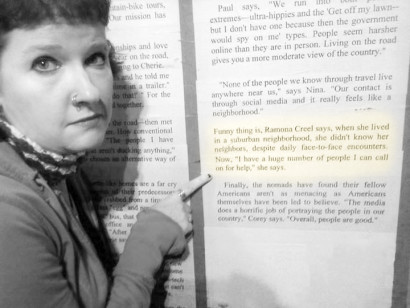 Putting together a magazine/newspaper story or TV/radio/web segment? Struggling to find interesting interview subjects? Folks who have something new and different to say? Who'll captivate your audience and send your readership/viewership through the roof?
Well here I am — fallen right into your lap, you lucky dog, you! As a professional-organizer-cum-simplicity-coach, entrepreneur, full-time RVer, world traveler, writer, artist, speaker, no-kidder, and all-around Renaissance woman — I love being interviewed about:
clearing paper/time/space clutter, getting your shit organized, and simplifying your life
downsizing to a not-so-big home (especially the kind with wheels)
debt-freedom, financial independence, and what the "American Dream" really looks like
what it's like to live/work on the road as a non-retired, non-elderly, non-blue-haired full-time RVer
off-the-beaten-path travel spots, weird regional food, and odd experiences to have before you die
how to escape the 9-to-5 grind, channel your inner entrepreneur, and earn a living from your talents
the joys (and frustrations and mechanics) of writing/speaking/coaching for a living
child-freedom as a valid, conscious, and intentional life choice (and not a personal "defect")
artistic inspiration, photography, visual art, creative writing — pretty much anything right-brained
multi-potentiality (also known as "career ADD") and why you don't have to pick just one path in life
any of the other 6,000,000 topics with which I'm familiar and love to jabber about
I'm a full-service one-stop-shop media goldmine! Freelance writers know that I can provide them with tons of quality content on very short notice — always a good thing for folks on a deadline! I'm happy to offer a list of potential interview questions (if it's a topic with which you could use a little help), share my photography (if you need images for your piece), and point you toward other potential resources (my network is both deep and wide).
I'm good with an ensemble piece, being the center of attention, or even contributing my own content. I've been featured in both local and national media — no outlet is so big as to scare me away, or too small to be worth my time for a quick chat. Most importantly, I tell it like it is — honest, authentic, and often more than a tad profane with my language. (Y'all journalism types are always welcome to edit/censor my commentary for family consumption — I promise I won't be offended!)
Whether you're looking for story ideas, entertaining anecdotes, philosophical musings, helpful product reviews, or practical tips that readers/viewers can put to use in their own lives — you've come to the right place. If you want the coolest content in town, gimme a holler and I'll be happy to help out!
Media Interviews
Book Contributions
Regular Columns
Click here for reuse options!


Copyright 2012 RamonaCreel.com
Ramona Creel is an award-winning 15-year veteran organizer and member of the National Association Of Professional Organizers. As well as having birthed "The A-To-Z Of Getting Organized," Ramona is also the author of "The Professional Organizer's Bible: A Slightly Irreverent And Completely Unorthodox Guide For Turning Clutter Into A Career"—and the creator of more than 200 "quick-start" business tools and templates for use by productivity professionals. She writes seven different blogs, has worked with hundreds of clients, and has delivered scores of presentations on getting organized. Ramona resides on the roads of America as a full-time RVer—living and working in a 29-foot Airstream. Learn more at and RamonaCreel.com.

If you would like to reprint this page, please contact me