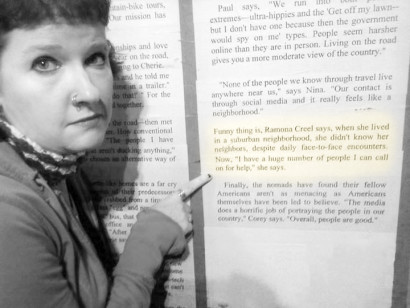 As a veteran Professional Organizer, full-time RVer, writer, artist, and all-around Renaissance woman, I'm always being interviewed by magazine editors and newspaper reporters — about clearing clutter, managing time, simplifying your life, off-the-beaten-path travel, living in a not-so-big home (with wheels), artistic inspiration, you name it. I don't mind participating in an ensemble piece, being the center of attention, or even contributing my own content — and I've been featured in both local and national media (no publication is too big or too small to be worth my time). Here's a sampling of some of the stories I've had published in the past — feel free to download and distribute the PDF version of any article, at will. And if you need content for your next article, contact me and I would be happy to help out!
Click here for reuse options!


Copyright 2014 RamonaCreel.com

PS: Wanna instantly rack up some serious virtual cred? I've made it easy for you to share this content with your social networking friends, e-mail it to your peeps, or republish it in your own blog (thereby showing off how smart you are) with these links.

(iCopyright widget here)
"I Have More To Say About This... No Surprise!"
Ramona Creel is an award-winning 15-year veteran organizer and member of the National Association Of Professional Organizers. As well as having birthed "The A-To-Z Of Getting Organized," Ramona is also the author of "The Professional Organizer's Bible: A Slightly Irreverent And Completely Unorthodox Guide For Turning Clutter Into A Career"—and the creator of more than 200 "quick-start" business tools and templates for use by productivity professionals. She writes seven different blogs, has worked with hundreds of clients, and has delivered scores of presentations on getting organized. Ramona resides on the roads of America as a full-time RVer—living and working in a 29-foot Airstream. Learn more at and RamonaCreel.com.

If you would like to reprint this page, please contact me