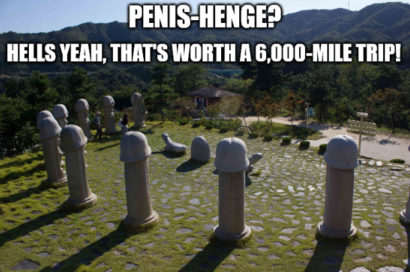 When I was little, my favorite thing in the world (well, one of my 10,000 "favorites") was to flip through my father's road atlases and AAA books, searching out all the sites I wanted to see "some day." Running my finger along the bright blue highway lines — marveling that towns like Boogertown, NC and Cheesequake, NJ and Hell, MI existed for me to visit. I loved it all — tacky roadside attractions with dusty mannequins and peeling paint, natural wonders, historic sites, those boring National Register plaques (that you wished you hadn't wasted your time on but still kept pulling over to read), the world's biggest ball of twine. Each page held so much possibility — potential adventures, new worlds to see, different lives to live.
Travel planning may not have quite the same sense of romance these days (nothing ever does once you grow up) — but it sure is a hell of a lot easier now, thanks to the interwebz. I've done my best to find all the resources you'll need so your next trek is a breeze — as well as provide you with plenty of bizarre diversions along your route. May you never run out of gas, suffer from crappy signage, or find yourself stuck on the side of the road wishing for a motel in the middle of nowhere!

Road-Tripping Your Way Across The Country

General Travel Guides

Things-To-Do Calendars

Getting Off The Beaten Path

Eat, Drink, And Be Merry

Ramona-Riffic Activities
Flat Out Weird Shit


Travel Discounts
Click here for reuse options!


Copyright 2010 RamonaCreel.com
Tags: hitching/towing/driving, resource links, RV living, saving money, travel and recreation

PS: Wanna instantly rack up some serious virtual cred? I've made it easy for you to share this content with your social networking friends, e-mail it to your peeps, or republish it in your own blog (thereby showing off how smart you are) with these links.

(iCopyright widget here)
"I Have More To Say About This... No Surprise!"
Ramona Creel is an award-winning 15-year veteran organizer and member of the National Association Of Professional Organizers. As well as having birthed "The A-To-Z Of Getting Organized," Ramona is also the author of "The Professional Organizer's Bible: A Slightly Irreverent And Completely Unorthodox Guide For Turning Clutter Into A Career"—and the creator of more than 200 "quick-start" business tools and templates for use by productivity professionals. She writes seven different blogs, has worked with hundreds of clients, and has delivered scores of presentations on getting organized. Ramona resides on the roads of America as a full-time RVer—living and working in a 29-foot Airstream. Learn more at and RamonaCreel.com.

If you would like to reprint this page, please contact me