Okay, so I don't work a 9 to 5 job — that doesn't mean I'm not proud of the things I've accomplished in my life. But some narrow-minded folks out there believe that if you're not ascending the typical vocational ladder in a socially-proscribed manner, it doesn't count. (These people are morons.) In defiance of "The Man," I decided to lay it all out in one document that violates every possible principle of effective resume-construction — it's too long, written in prose style using colloquial language, and there are even a few profanities thrown in for good measure. Sue me — it's not like I'll be submitting an application to anyone's corporate HR department anytime soon. But it's kind of fun to look back and see the path I've taken to arrive at today. (And if this still ain't enough fer ya, I've got more story to share here, here, here, and here.)
Book Learning Ain't What It Used To Be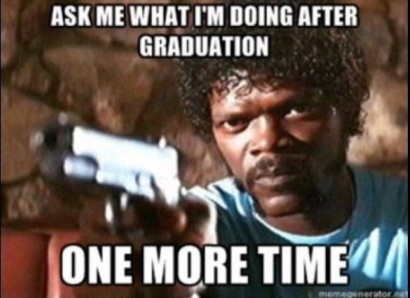 Like everything else in my life, ye olde educational plan went through several strange permutations over the years. Initially, I wanted to be an astronaut — until I discovered that roller coasters made me puke. Then I considered medicine — until I decided that I didn't want to be finishing school in my mid-30s. At that point, I thought I might teach — until I realized that I'd probably send some kid home black-and-blue and get fired my day one on the job. Finally, I found my calling — curing the world's ills as a Social Worker. Just 5 short years and $10,000 in student loans later, I was an official job-seeker!
Back when I de-matriculated, a college degree wasn't quite as useless as it is today. It's true that the only openings after graduation were either babysitting homeless patrons at a shelter from midnight to 8 AM for minimum wage (a fine use of that expensive shingle on my wall) — or executive-directing an entire agency (the thought that I might by some fluke get hired for one of these in-over-my-head positions was terrifying). But it only took 6 months of temping before I found a for-realz job — better than many kids do nowadays.
Masters Degree — Urban And Regional Planning / Florida State University, Magna Cum Laude (12/94)
Bachelors Degree — Social Work / Florida State University, Summa Cum Laude (8/93)
Mortar Board / Phi Beta Kappa (honor societies)
Colossal Wastes Of Time (I Mean Internships)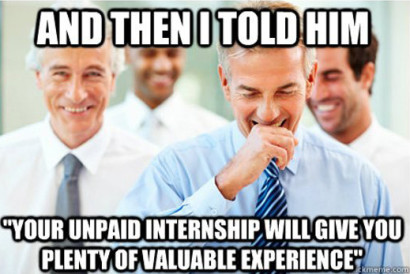 Most folks who hire an "intern" do so under the guise of mentoring an industry up-and-comer — but it's really just a way to dump grunt work and crap assignments on someone who can't quit and isn't covered by payroll or benefits. (Higher education and big business — working together to create a better America!) I however, was blessed with slave-wage employers genuinely interested in helping me discover which career path would best suit me, so I could find my place in the job market. (Most of them, anyway.)
And I'm pleased to say that my own collegiate minions (of which I've had many) have universally walked away with oodles of real-world experience. To be fair, they all worked virtually — and it's hard to process 3/4-full-with-soy-milk-no-sugar over the internet. But still, I'm trying my best to pay it forward. (If you'd like to consider an internship position in the exciting field of "doing-whatever-the-fuck-strikes-your-fancy-each-morning," lemme know — I'll be happy to use and abuse you in the name of indentured servitude!)
1000 Friends Of Florida — researching funding programs for a statewide housing guidebook
Florida Housing Finance Agency — researching low-income tax credit programs
Brehon Institute — training, mentoring, and monitoring parents of "at risk" children under age 2
Florida Housing Coalition — helping plan the annual regional Affordable Housing Conference
Collier County Housing Authority — performing Section 8 housing inspections
Trying Not To Be A Typical Government Employee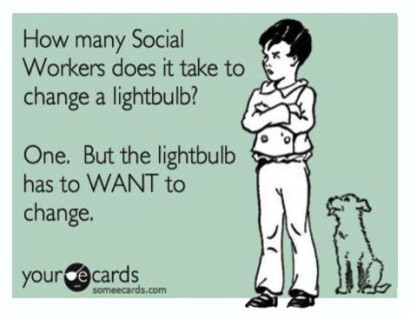 I started off my Social Work career bright-eyed and bushy-tailed — prepared to rid the world of injustice, determined to make sure everyone had a safe place to live, committed to serving disenfranchised populations with the dignity and respect they deserved. Friends said, "You'll end up punching a time clock, just like all those other cogs in the government machine." I told them, "No way — I'm not a stereotype! I'm gonna make a difference!" I'm not sure who I became or what exactly I accomplished — but I do know it only took me 3 years to discover that I wasn't built for public service.
In my first position, I re-certified clients of the Section 8 Program when their vouchers/certificates were up for renewal. That meant filing a lot of paperwork, affixing massive amounts of red tape, and wading through a ton of bullshit. But what I found most rewarding was the personal interaction. These folks were far-too-used to being maltreated by the system (shuffled around like cattle, ignored as non-entities, spoken to condescendingly by all manner of staff at their A.F.D.C., Social Security, W.I.C., and Food Stamp offices). Just to mix things up, I decided to address each individual on my caseload as I would a paying professional client — I can't tell you how many times I had someone hug me at the end of an appointment and thank me for being nice. Apparently, the bar is set so low that all you have to do to make a person's day is simply regard them as a human being. It's pathetic that a little kindness is considered going above and beyond — but those moments of connection made the intolerable government stupidity worth it (for a while, anyway).
7/95 to 3/96 — Atlanta Housing Authority, Special Housing (Housing Advisor)
managing a caseload of 350 program participants
educating clients and landlords about Section 8 policies and policy changes
performing annual re-certifications and interim income change documentation
coordinating client moves and transfers to other housing authorities
preparing leases and contracts
managing payments to clients and landlords
investigating fraud allegations and recouping overpaid assistance
terminating client participation when necessary for program violations
Relocating Public Housing Residents To Better Quarters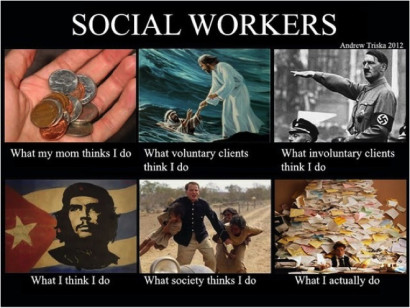 At this point in my career, I was asked to assist with a wide-scale mandatory tenant relocation. Atlanta use to have the oldest public housing in the country. I'm talking decrepit, blighted apartment buildings that were never properly maintained — horrible places to live, and quite legitimately dangerous for residents. Then the decision was made to bulldoze these moldy-mildewed-rodent-infested-pimp-and-drug-dealer-laden-bullet-riddled-banger-run health hazards, rebuilding said tumbledown deathtraps as shiny new mixed-use housing. (Some units rented at market rate, others financed by the city.)
It was no secret that piling poor people together in a place already burdened with social problems was counterproductive. Poverty, crime, and babies-having-babies quickly became the norm — so folks naturally ended up following their neighbor's example. But creating incentives for upwardly-mobile members of the larger society to cohabit alongside people on assistance allowed those from a lower socioeconomic status to see the American dream in action (hopefully encouraging them to work for something better). And that full-price Chester College or Patty Professional wasn't gonna shell out fat stacks to tolerate roaches, leaky roofs, and malfunctioning toilets — this meant subsidized residents enjoyed a nicer living environment by association. Most importantly, since no one unit or building was designated "too-po'-to-afford-the-o-r," you never knew whether the family in 1-A was paying retail or on a voucher — buh-bye welfare stigma!
My job was to help folks who'd lived in public housing all their lives (sometimes for several generations) survive a temporary relocation to private apartments until their complex was re-built. I'm not sure I can adequately express what a challenge this was — no matter how crappy the situation, these folks did NOT want to vacate. They were understandably petrified about leaving everyone they knew and moving to a strange part of town. Some were disabled or elderly, others were single moms worried about finding work in a new area, and none of them had ever dealt with landlords or utility companies before. They all needed help scraping together first/last/deposit money, transferring school/medical records, and finding services in their new hoods. Not an easy task, but I tackled it with gusto — after all, I am the resource-master.
 4/96 to 5/97 — Atlanta Housing Authority, Special Housing (Housing Mobility Counselor)
relocating public housing residents into private units prior to demolition
assisting in creation of the Vacancy Consolidation Plan for Atlanta
helping residents with all aspects of the actual move
counseling clients on tenancy issues
targeting social service needs through one-on-one goal-setting and monthly follow-up
identifying community resources and coordinating agency service provision
compiling a comprehensive social services directory and procuring training aids
recruiting new landlords and educating them about the Section 8 Program
(plus all the regular responsibilities of a Housing Advisor)
Helping Folks Break Free From Public Assistance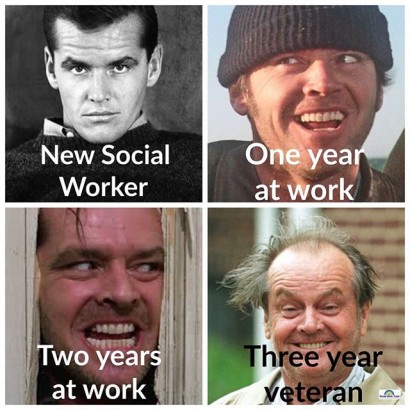 After a year of relocating clients from Egan Homes, the demolition was underway and mama needed a brand new bag. Fortunately, the Housing Authority was launching a voluntary welfare-to-work program — and I was chosen (mostly because I clamored for it so loudly and insistently) to plan (then head) this new Family Self-Sufficiency department.
In Section 8, housing expense was based on income — as a participant's take-home swelled, s/he became responsible for a greater portion of the rent. That gave folks zero incentive to seek better employment, because a raise just forced you to shell out more money on a place to live. (And we're not talking big bucks — $7 an hour was a good wage for my clients.)
Let's say you started out unemployed, contributing nothing toward your $800-a-month lease — then you got a job, and your bill was suddenly $250 (with the Housing Authority now paying $550). On my program, the government moolah that longer went to your landlord ($250 in this example) was put into a savings account for you each month — so as your earning power increased, so did your stash. At the end of 5 years (or once you were covering the full rent yourself), you left Section 8 and every penny of that cash went with you. You could use it for whatever you wanted — car, house, college education. Pretty goddamn good deal!
I was delighted to be a part of this undertaking — and quite willingly ran around like a headless chicken trying to find resources for my peeps. I networked with adult ed programs. I visited trade colleges to negotiate reduced-rate enrollment. I talked local unions into offering my tribe special journeyman training. I chased down child care, health care, and transportation. When folks told me how their lives sucked, I found ways to make them suck less. Same as the organizing/coaching I do now — just a different kind of suck.
5/97 to 4/98 — Atlanta Housing Authority, Family Self-Sufficiency Program (Coordinator)
designing/structuring the program to align with HUD and Housing Authority requirements
recruiting new participants and running program policy orientations
managing the cases of all enrollees (without any staff help)
researching job training opportunities for participants
negotiating social services, education, and employment opportunities
handling savings account deposits
creating all contracts, documentation, materials, and marketing pieces for program
Creating Order, One Client At A Time
When my government bubble burst and I lost every ounce of interest in being employed by someone else, I had a choice to make. I could try my hand at starting a charity (which meant begging for grants) — or embrace my inner capitalist and launch a money-making business (which meant figuring out what I was good at). That's when serendipity stepped in, disguised as a prima donna talk show host. A friend teasingly pointed me toward an Oprah episode on Professional Organizing. She joked about my extreme anal-retentivity, and suggested that I could clear clutter for a living — she was right!
I was (of course) highly organized since ovum met spermatozoon — but I still devoured every book I could find on time efficiency, paper management, space planning, and process improvement. (God bless a library system with no check-out limit!) Folks invited me into their homes and offices, where I asked questions, created order, simplified lives — and I oh-my-god-freaking-loved it! I fixed kitchens and corporations and garages, planned moves and yard sales and meetings, helped my brood regain control over jobs and finances and children. Hired by for-profits, non-profits, individuals/families, I taught housewives and business executives alike how to function better in the real world. Within 3 months, I had more work than I could handle, and a career was born. At this point (nearly 20 years later), I've assisted hundreds of satisfied clients, written The A-To-Z Of Getting Organized: A Grown-Up Picture Book For The Chaotic And Cluttered, and am still going strong — I don't ever see myself NOT wanting to help folks take back their lives!
4/98 to present — Professional Organizing Consultant and Efficiency Expert
simplifying every area of home/work life to reduce stress
improving time management, goal-setting, and productivity skills
creating easy-to-use paper/filing and information/data management systems
eliminating clutter (as well as changing less-than-constructive habits/beliefs to keep it from returning)
maximizing storage and designing functional-yet-aesthetically-pleasing spaces
teaching children valuable organizing and study/homework skills
coordinating estate planning on one end, cleaning out after the death of a loved one on the other
addressing the organizational issues that come with a major life transition
creatively categorizing and displaying memorabilia/photographs
preparing for and executing a move/relocation from start to finish
planning and running profitable garage/online/consignment/estate sales
systematizing financial records and bookkeeping systems
tightening business workflow and processes
leading group/staff training and workshops
designing ergonomically-correct workstations and office environments
implementing more productive project management and meeting plans
Blazing New Trails In The Organizing Industry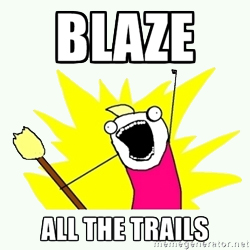 Along the way, I realized that I was spending a tremendous amount of time in the vastness of cyberspace googling tangential products/services/info for my clients — and man, was it frustrating! (I've got a fair bit of search-patience, but god help any disorganized person looking for a quick and easy solution on the interwebz.) So I got the semi-brilliant idea of starting a one-stop-shop offering everything folks could possibly need to create order, all in one place. At the time, this was one helluva revolutionary concept within the industry — a comprehensive organizing community focused not only on helping Timothy Tardy and Penelope Packract calm the chaos, but also dedicated to supporting productivity professionals in their quest to become more effective business people.
I spent 9 years developing something truly groundbreaking and original. I helped launch merchandise that otherwise might never have seen the light of day, brought thousands of pages of original content to the web, and assisted scores of newbies in getting their own businesses off the ground — I dominated the expo at our annual NAPO conference, won professional association awards in 5 different years, and turned OnlineOrganizing into a household name. That's when my career A.D.D. kicked in and I needed a change.
I sold my precious offspring for a healthy chunk of change (yay!) — retaining rights to the articles and products I'd created. I packed up my toys, and went off on my own to write The Professional Organizer's Bible: A Slightly Irreverent And Completely Unorthodox Guide For Turning Clutter Into A Career (yay!) — while I continued to coach colleagues through start-up and growth and taking their businesses to the next level. Then I watched as the new site owner murdered my baby in cold blood (boo!) — slowly, painfully, through gross abuse and neglect. She took a profitable enterprise that had supported me for almost a decade, ran it straight into the fucking ground in less than 3 years, then declared bankruptcy. The domain's been decommissioned, so don't look for it — but old-timers will tell you it was da bomb diggity.
10/00 to 3/09 — Founder/Creator/Administrator of OnlineOrganizing
providing a web-based "one-stop-shop" for organizing products, services, and information
posting more than 10,000 total pages of organizing content, tools, and tips
developing the premiere web-based organizing resource, with 250,000+ page views each month
giving 25,000+ referrals to 2,500+ Professional Organizers (for consulting, speaking, and coaching)
compiling online catalog of 4,000+ organizing and business development products
processing 35,000+ orders over the life of the website
publishing dual monthly online newsletters with 35,000+ regular subscribers
launching the largest organizing blog on the web, with 50+ bloggers and 2,500+ posts
setting up a "resource directory" to help visitors find 2,500+ other useful products and services
creating a training and coaching program for Professional Organizers and other entrepreneurs
managing 8,000+ affiliates
Sharing What I Know With The World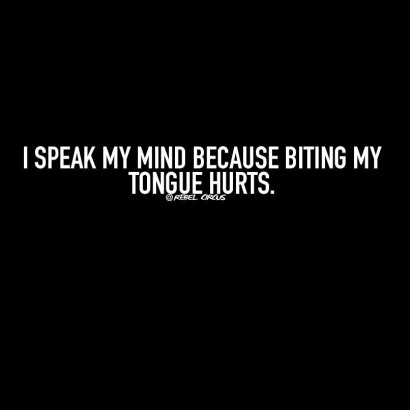 Anyone who's met me knows that my defining communication style is "enthusiastic verbosity." I have a lot to say (usually quite loudly and with a great deal of fervent gesticulation) about EVERYTHING — don't get me started on a topic I'm particularly passionate about, or I'll go on for days! (I blame my English teachers. Had they not introduced me to the joys of term paper research and oratorical debate, while simultaneously failing to set a word/time limit — I'd never have gotten hooked on sharing my observations with such loquacity.) But I can't complain, 'cuz most folks seem to like what I have say (long-winded though it might be) — and those who don't provide a rich source of "let-me-show-you-the-many-flaws-in-your-logic" counterargument fodder!
It's true that the opinionated mind knows no bounds — too many interests and an endless willingness to share (a deadly combination) means I've covered just about every subject imaginable. I've taught essential life skills, shared my artistic processes, and ranted about social injustice. I've participated in podcasts and panels on topics ranging from the mechanics of writing to effective parenting technique, from life transition to defining happiness, from eliminating debt to entrepreneurial best practices. I've created written/video content for other companies (like Smead, Airstream, and Hewlett-Packard). I've crafted dozens of workshops, penned thousands of articles — and have either published or am mid-scribage-on a staggering number of publications (business manuals, instructional guides, picture books, socially-relevant YA fiction, wanderlust narratives, recipe collections, art retrospectives, and every genre in-between). Whew!
4/98 to present — Author, Blogger, and Public Speaker
designing a work/personal existence that allows you to thrive and flourish
drawing healthy boundaries and eliminating toxic situations
using precious limited resources (time, energy, money, space) more efficiently
regaining control over paper piles and information overload
using unconventional solutions to maximize space and storage
practical techniques for achieving financial freedom while still living large
running a business in the best and most effective manner for your personal goals
sharing voluntary simplicity as a viable way of life in crazy and chaotic times
holistic downsizing and clutter control (in every area of your life)
filling your days with creativity (even if you don't think of yourself as creative)
fighting logical fallacies with the lost art of critical thinking
illustrating the joys of living/working on the road with travels tales and anecdotes
embracing the "no kidding" (voluntarily childless) lifestyle in modern times
Helping Clients Move Beyond Organized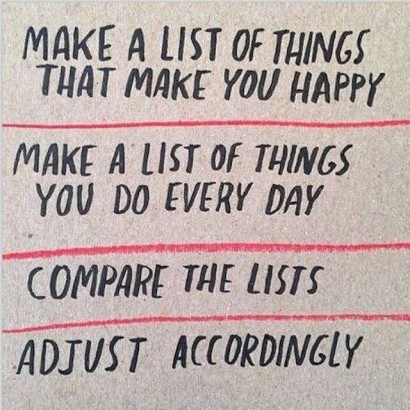 Teaching folks to set up a stress-free calendar or manageable file system (or garage they can actually fit the car into) is fine and dandy — but focusing entirely on these issues eventually becomes a tad limiting. My definition of "order" has always been more comprehensive than mere time-paper-space woes. (I want to improve the WHOLE situation, not just a desk or closet or media collection.) And that's clearly what my tribe desires — during organizing sessions, I continually find myself picking other scabs at the behest of my clients. I'm asked over and over again for advice tangential to the reason they've hired me — repeatedly drawn into discussions about repairing their finances, relationships, health, job situation, child-rearing abilities, and flagging sense of personal fulfillment.
This is where the Social Worker in me collides with my Professional Organizing side — creating the vocational equivalent of a Reeses Peanut Butter Cup. "Hey! you got order in my enhanced well-being!" (If you're not a Gen-Xer, go look that joke up on YouTube.) Turns out I can get away with asking the same annoying-ass questions about OTHER issues, as the ones I regularly use to attack clutter — then put my amazing problem-solving super-powers into play, and end up effecting positive changes all throughout a person's life! I came to realize that my skills lie not just in categorizing or systematizing, not even in bigger-picture goal-setting and follow-through. I've discovered a talent for comprehensively helping my peeps align every part of their existence with their innermost values. I call this concept living "in integrity" — and it's a notion folks embrace because it resonates at a far deeper level than just "getting organized."
I despise the term "life coach" (an ill-defined and meaningless title) almost as much as I hate the phrase "it is what it is" (a vague and empty platitude, at best) — so I refuse to call myself that, no matter how many pins you stick in me! I prefer that y'all see me as an Accountability Guru. (How'dja like that?!) I definitely perform traditional coaching functions — pinpointing success-blocking complications, creating a structured work agenda, converting pie-in-the-sky goals into actionable tasks, hunting up relevant resources, and staying on folks' collective tail-ends to make sure they maintain forward momentum. But this particular "help-me-fix-what's wrong" relationship transcends your typical co-active model. I don't just suggest challenges for clients to explore (then leave them to find-or-not-find their own answers) — I actively intervene to make sure my peeps are implementing realistic solutions to their problems. That's right, implementing solutions  to problems — feel the collective shudder within the coaching community.
1/00 to present — Accountability Guru and Mentor
figuring out what's working and not working in clients' lives
instituting proven-effective systems of reward/discipline with children
either improving non-supportive adult relationships, or finding a way to end them
eradicating debt and achieving financial freedom
discovering employment that fills each day with passion (while also paying the bills)
landing on (and maintaining) a feasible fitness/nutrition routine
addressing health issues in a proactive manner
clearing ALL the clutter that's standing in their way (money, time, stuff, people, negative thoughts, etc.)
creating a nurturing, comfortable, and manageable environment (at work or home)
making room for activities/priorities that have previously been neglected
developing positive habits and ways of thinking that will last a lifetime
Teaching Entrepreneurs To Be Better Business People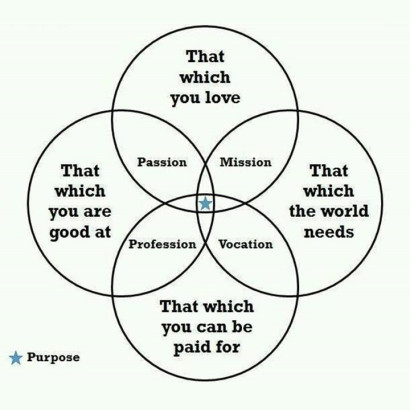 One surprising thing I've discovered during my extremely "colorful" career is a talent for business admin. (I started out a leftist and ended up a capitalist — whodathunkit?) This gift appeared during a session with my first enterprise-level client waaaay back in the dark ages of the late 90s. I was playing a rousing game of "devil's advocate" with the firm's operating manual — poking holes in their procedures, challenging the board to rethink how they approached the business of doing business, generally being the ginormous pain in the keister my peeps have come to expect when they hire me. I wasn't sure if this work would mesh with my basic anti-corporate nature over the long run — but in that moment, I was having a crap-ton of fun being exasperating. (Isn't that what counts?)
Fast-forward to a few months later, when the CEO told me that my recommendations had thus far netted them a 15% increase in revenue — I was hooked! Unfortunately, corporate culture and I don't get along terribly well. (All those bureaucratic decision-making layers drive me bats — and my nose-rings tend to clash with everyone else's suits.) So I set my sights on smaller companies and individual executives, folks who could control their own destinies without having a dozen flipping committee meetings about it.
While I have a soft spot for solopreneurs and freelance service providers (especially my fellow Professional Organizers), I've found that I can help pretty much any company function more effectively. It's not just because I've read nearly every business manual published within the last 20 years — it's because I've been where they've been (no matter where they've been). I've functioned online and off — both incorporated and D.B.A.ed. I've worked alone, as part of a team, and managing staff. I've marketed artwork, intangible services, information, and physical commodities — created products from scratch, as well as overseen the packaging and retail sale of hundreds of other people's merchandise. I've turned both my own and my colleagues' expertise into workshops and books and training programs. And I successfully sold a profitable company that I'd built from the ground up — so I can speak to just about every aspect of entrepreneurship.
1/00 to present — Business and Career Coach
addressing start-up concerns (like choosing an entity, legal structure, name, and business model)
performing a performance-based reality check so you know how your business is really doing
determining what your ideal customer looks like
customizing your message to suit each client's wants/needs/frustrations
figuring out how much you're worth and setting/getting the right fees
developing an industry-appropriate, you-specific marketing plan
using preventative customer service as a key business-building strategy
dealing professionally with difficult client situations
understanding basic business bookkeeping systems
structuring a profitable business model, no matter what your business model
systematizing the mechanics of working with your clients
learning the RIGHT way to network and create joint ventures
setting yourself (and your offerings) apart from the crowd
expanding into public speaking and writing
packaging your expertise in a way that goes beyond trading time for money
creating a passive-income product line (filled with your products or someone else's)
smarter hiring, outsourcing, and staff management
getting comfortable with the idea that firing less-than-ideal clients is crucial to career success
overcoming those inevitable bumps in the road your business is guaranteed to face
taking your company to the next level (whatever level you're at right now)
putting an exit strategy in place from day one
Balancing The Creative With The Logical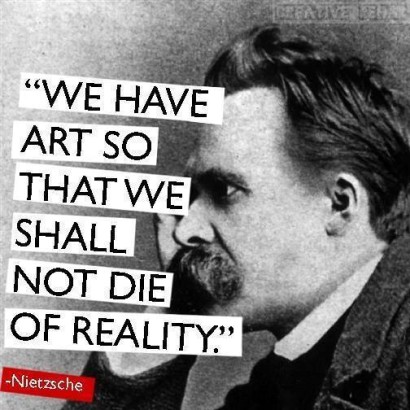 Thanks to my dear departed mother, I've always been a "highly imaginative character" (to quote Edward Scissorhands) — forever involved in some crafty endeavor or another. As a kid in South Florida, it was shell sculpture. (Pride and joy was that frog with the urchin-spine cigar in his mouth — until my stupid cat knocked him off the dresser and decapitated him.) As a teenager, I hand-made the most amazingly over-the-top bedazzled-beflocked-beribboned-puffy-painted clothing to sell at our local flea market. (Dude — it was the 80s.) In college, I shifted to hawking decoupage picture frames, foam cut-out Christmas ornaments, and dried flower wreaths at holiday shows. But it wasn't until my marriage melted down that I formally incorporated these fartsy leanings into my business.
After I ran away from home and began to rebuild my life, I met a man whose artistic drive rivaled my own. His passion fueled my passion, my imagination threw lighter fluid on his — day after day, we encouraged each other's wild ideas and fantastic visions, until we ignited a perfect firestorm of creative chaos. (Hooking up with a prop-maker, set-designer, actor, web-series-producer, and screenwriter does wonders for stimulating your corpus callosum — I guess that's why I decided to marry him!) Ben introduced me to a local creative writing group. (I've now completed a play, am working on a novel, and am co-writing both a film script and a musical with mah sweetie.) He's helped me achieve clarity when it comes to my visual art (both the "paint-a-picture" kind and the "screw-around-with-found-objects" sort). And he'll tell me wonderful lies like, "No sweetie. That's not too weird," when I push an envelope. All creative-types need one of these!
As with everything else, I've got a serious case of artistic A.D.D. — I have a new project idea approximately every 30 seconds, and I'm physiologically incapable of limiting my interests to just one discipline or medium. The good news is that I've got enough entries on my "art to make" list to keep me busy until the day I die!
5/09 to present — Artiste Extraordinaire
travel and fine art photography/giclees
mixed-media mosaic and collage
found-object constructions
weird jewelry-and-accessory-making
themed windchimes
sculpture of all sorts
duct-tape doo-dads
shadowboxes
origami scenes
geeky and pop-culture themed pieces
painting/drawing
sacreligious and dark/creepy artwork
fabric/felt/yarn creations
decorated furniture
fused/fired glass
theater pieces
For All The Credential Whores Out There
I have nothing against career climbers — I just don't happen to believe that a pile of superfluous certifications equals success. (Sure, I was in the Who's Who Of American Business — so flippin' what?) One thing I've learned as an entrepreneur is that I don't need 3rd-party degrees and designations to prove my services have value. (An eye chart full of letters after my name ain't nowhere near as satisfying as changing a client's life.) Plus, so much modern-day "credentialing" is little more than a money-making racket. Newsflash — purchasing an impressive-looking-yet-hollow resume doesn't prove shit about your ability to do your job!
I've also never felt compelled to join every professional association on the planet, because most business groups are just an excuse to have meetings — and I hate meetings. Don't give me that look — it's not like I didn't try! I've communed with women execs and the self-employed and a half dozen different Chambers Of Commerce throughout my career — but I never got enough out of these organizations to stick around. The list of affiliations that have made a lasting difference to my career are few (VERY few). I prefer to direct my energies toward accomplishing goals, experiencing the world, and having a positive impact on those around me (rather than listening to motivational speakers and eating stale doughnuts).
Universal Life Church Ordained Minister — since 2009
Professional Photographers Of America — since 2007
NAPO Golden Circle — since 2003
Self-Improvement.com Expert — since 2000
National Association Of Professional Organizers —  since 1998
PowerCore Alum — since 1998
I Can Award-Douche With The Best Of Them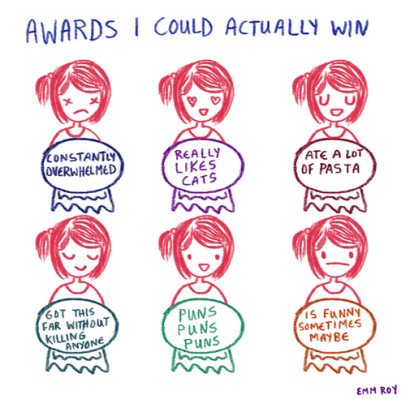 Just like professional credentials, I don't hold a lot of stock in awards. I'm immediately leery of folks who start off a relationship by telling you how awesome the world thinks they are. Just be real, okay? I'll probably like you better in the long run than if you act like a self-aggrandizing twit.
And seeing a vague term like "award-winning" attached to a product or service is an immediate red flag for me. (Just remember, a book that gets the Bad Sex In Fiction  trophy is just as prize-garnering as one that earns a Nobel  or Pulitzer!) Plus, even the meaningful recognitions fade over time. (Yeah, I was once Florida College Student Of The Year — big deal. The plaque is long-since donated to a thrift store.)
That having been said, I'll admit I'm considered something of an innovator in the Professional Organizing industry. (God knows how — the way I flout conventional wisdom, break every rule the powers that be put in place, and manage to piss at least one person off with any decision I make!) But my dear colleagues have been gracious enough to honor me a number of times, so I feel like I should acknowledge their accolades.
L.A. Organizing Awards — "Best Organizing Educational Resource" (2008)
L.A. Organizing Awards — "Best Organizing Website" (2008)
L.A. Organizing Awards — "Best Organizing Product Retailer" (2008)
NAPO Organizer's Choice Award — "Best Organizing Service" (2007)
L.A. Organizing Awards — "Best Organizing Educational Resource" (2007)
NAPO Organizer's Choice Award — "Best Organizing Service" (2005)
NAPO Organizer's Choice Award — "Best Organizing Service" (2004)
NAPO Organizer's Choice Award — "Best Organizing Service" (2003)
NAPO-GA — "Rookie Of The Year Award" (1998)
All Work And No Play Make Ramona A Total Bitch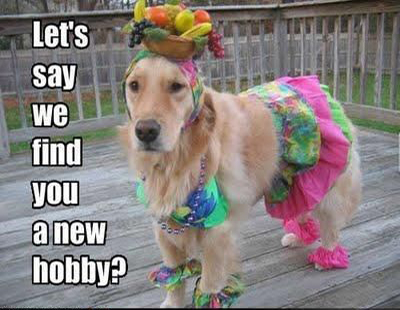 What I do with my free time is as important to me as the titles on my business card. I relish the chance to try a new extracurricular — especially a weird one most folks have never considered attempting. I've played drunken softball and grown-people-pretending-they're-grader-schoolers kickball. I've parried and dodged (fencing), shimmied and slid (belly dance), emoted and projected and broken the fourth wall (acting). I learned to cave (where I overcame a pretty nasty fear of heights) and scuba dive (where I conquered an even more heart-stopping de-oxygenation worry). You got an activity I might like? Bring it on!
I take advantage of every opportunity to dress like a fool in public, develop a bizarre skill, cause myself a life-long injury, or make a joyful-if-not-entirely-pleasant noise. It would be impossible to list them all, but these are a few of my favorite organizations to frequent when I have a little free time to spend.
Burning Man regular (our playa names are "Ragdoll" and "TeddyBen")
Girl Scouts Of America (gold award recipient in high school, volunteer as an adult)
National Speleological Society / Dogwood City Grotto / SoCal Grotto
PADI Certified (open-water diver, peak buoyancy, and nitrox enriched air)
Atlanta Feminist Women's Chorus
Burbank Community Band / Santa Clarita Valley Community Band
Zombie Joe's Underground Theater / Actaeon Players
ComicCon / DragonCon (and every other cosplay convention that comes my way)
TikiNo Bar (reigning late-night hula-hooping champion)
Make Your Friends Jealous! Show Everyone What A Big Brain You Have! Be The First To Share This Amazing Content With Them!
Ramona Creel is an award-winning 15-year veteran organizer and member of the National Association Of Professional Organizers. As well as having birthed "The A-To-Z Of Getting Organized," Ramona is also the author of "The Professional Organizer's Bible: A Slightly Irreverent And Completely Unorthodox Guide For Turning Clutter Into A Career"—and the creator of more than 200 "quick-start" business tools and templates for use by productivity professionals. She writes seven different blogs, has worked with hundreds of clients, and has delivered scores of presentations on getting organized. Ramona resides on the roads of America as a full-time RVer—living and working in a 29-foot Airstream. Learn more at and RamonaCreel.com.

If you would like to reprint this page, please contact me