Yes, I know dramatical isn't a real word — go watch Waiting For Guffman, take a pill, and cut me some slack.
When I landed in Los Angeles, I was (almost immediately) bullied into joining a theater troupe by several well-meaning-yet-stealthily-manipulative friends — including my beloved. (He wasn't the ring-leader, but he sure as hell didn't do anything to protect me!) I swear to god it wasn't my fault. These people tricked me! Them draaama folks are sneaky — they've perfected the art of sinking their hooks into you incrementally. First it was, "How'd you like to join us for a creative meeting?" Then, "You're pretty good with words — maybe you can help us flesh out some of these ideas." Then, "We could sure use you as a plant in the audience." And finally, "Why don't you just write a character and we'll put you in the show?" Sigh…
All The World's A Stage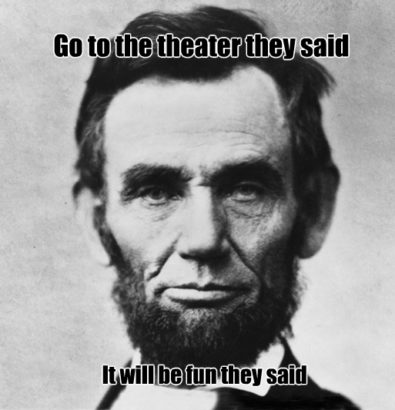 My first thespian experience was just about as "experimental" (and by that I mean rectally-extracted-then-plopped-hot-and-steaming-straight-onto-the-stage-sans-any-freaking-clue-how-this-fiasco-would-turn-out-until-it-premiered-opening-night) as it gets — a tremendous amount of creative freedom, paired with zero script and very little direction. (In case you hadn't guessed, this was excruciating for an anal-retentive dramaturgical virgin!) We each wrote our own parts, then figured out how to weave them together into a coherent whole — building an entire show from scratch in just 11 rehearsals. I was flying by the seat of my pants the whole time — the only (and I mean ONLY) member of the cast who had never attended an acting class or been on stage before. Sigh…
The director said, "Come on people, this is Performance 101! " — I reminded him that I never took Performance 101. He told us to be "off book" the next rehearsal — I was like, "So you want me to put a dictionary on the floor and stand beside it?" (He was not amused.) I did my first trust fall, learned to kill my babies during script revision, and unlocked the secret behind "projecting." (Who would have ever thought me incapable of adequate volume??) I was introduced to a whole host of terrifying (at least for a lone-wolf perfectionist like me) cooperative focus exercises like "group counting" and "zip-zap-zop." I feared being evicted from the show for lack of talent, had nightmares about forgetting my lines, and nearly threw up opening night. I was so far outside my comfort zone, I couldn't even remember what zip code it belonged to! Then something amazing happened as the curtain rose on our third performance — I started having fun!
Once I got to the point where it was no longer a struggle to remember scene transitions, I embraced my inner ham and found myself completely absorbed in the story going on around me. Even more unbelievable, total strangers were actually complimenting my piece, telling me how much it touched them and how powerful they found it to be — at least a half-dozen CRIED during my performance, and all were shocked when I admitted that this was my first theatrical foray. By the end of our run, I finally stopped saying, "I'm not an actor"– because even if I wasn't trained along those lines, that's exactly what I'd become!
My fellow cast/crew members were warm and caring — entirely welcoming of an entertainment newbie (and infinitely forgiving of all those months I spent calling them "you theater people"). Not only have they taught me legions about this particular art form, they've become cherished friends. Extended family, even. In some ways, this was the most challenging possible introduction to "the industry" that I could have had — and in others, probably the easiest. One thing's for sure, I'm hooked!
I've happily performed in a few of my colleagues' shows. And while my CV is nowhere near as impressive as some of my friends' (folks with several dozen shows under their belts), each of these experiences is a seminal part of who I've become as an artist — that's why I want to share what I've learned with you here. However, I've no real interest in acting as either a profession or a long-term hobby —  what's really speaking to me now is the writing side of stagecraft.
Stuff I've Performed In
Save
Click here for reuse options!


Copyright 2010 RamonaCreel.com
Make Your Friends Jealous! Show Everyone What A Big Fricking Brain You Have! Be The First To Share This Amazing Content With Them!
Ramona Creel is an award-winning 15-year veteran organizer and member of the National Association Of Professional Organizers. As well as having birthed "The A-To-Z Of Getting Organized," Ramona is also the author of "The Professional Organizer's Bible: A Slightly Irreverent And Completely Unorthodox Guide For Turning Clutter Into A Career"—and the creator of more than 200 "quick-start" business tools and templates for use by productivity professionals. She writes seven different blogs, has worked with hundreds of clients, and has delivered scores of presentations on getting organized. Ramona resides on the roads of America as a full-time RVer—living and working in a 29-foot Airstream. Learn more at and RamonaCreel.com.

If you would like to reprint this page, please contact me