Journalists seem to like what I say about full-time RVing. (God knows why, with the mouth on me — I guess a little profanity keeps "chained-to-your-desk" interesting.) Of course after toning the language down, I'm never quoted as accurately as I'd like. But at least no one can accuse me of a boring interview!
As you can see, I've done far fewer interviews about my nomadic lifestyle than about my organizational prowess — but it's a story you media types need to embrace with the same gusto as decluttering. (Extreme downsizing! Tiny house on wheels! Trading stuff for freedom!) Here are my favorite bits of media stardom — and hey, if you need any snark-laden quotes for your next publication, gimme a holler!
The Saturday Evening Post — As The Home Roams
I had no idea this Norman-Rockwell-esque publication was still around — but I was thrilled when they asked if they could come to my little tin can and ask about my definition of "home" in the modern era:
Stella rocks. A 200-square-foot Airstream Excella, Stella measures 29 feet at her longest point. She's covered in polished aluminum, and her interior boasts wood floors, custom cabinetry, an antique metal backsplash in the kitchen, a stained-glass window, retro print curtains, funky decor throughout, and a couch that flips into a bed.
In short, all the comforts of home — for only $15,900, delivered to the Maryland driveway of Ramona Creel. "Stella's hip and cool and awesome and I love her." So much so, in fact, that she decided to sell her house, reinvent her career, and take to the open road. Permanently.
Why I chose to live on the road:
"The house thing just wasn't working," says Ramona. "Some folks are perfectly content living in the same town their whole lives, not caring if they see the world," Ramona writes from somewhere near Atlanta. Or San Diego. Or maybe it was Louisiana. "Not me! I inherited busy feet from my father. Nothing excited him more than jumping in the car and taking off to someplace he had never been. I'm the same way."
A bit about how I work:
Ramona coaches clients via the web, with occasional meetings when Stella pulls into an RV park. Wherever she can hook up to a server, an electrical outlet, and a water faucet, she's in business. It's a life that suits her well. "It just feels like the right path," says the woman with busy feet. "I didn't want the house. I don't need the big screen TV. I want the experiences." Where is she of to next? Ramona laughs. "Florida. I follow the good weather."
The Leonardo Museum — Technically Homeless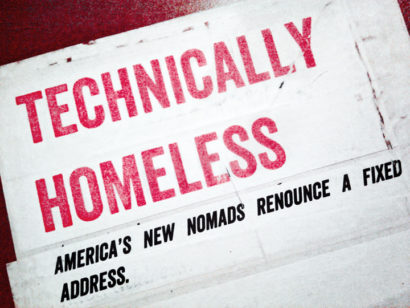 Well this was a first — I mean how often do you get interviewed for a museum exhibit? This piece was part of the "No Fixed Address" installation at The Leonardo in Salt Lake City, about folks without a single permanent location:
Some refer to themselves as full-time RVers (after the recreational vehicles they inhabit), but many reject that term because it was originally applied to retirees living on pensions. The new nomads have healthy careers — working as they roam the highways, not on eternal holiday.
In the last decade, the age of these working wanderers has skewed increasingly younger as digitalization of the world's economy has made it possible to work remotely from just about anywhere. The members of this demographic whimsically call themselves rubbertramps, gypsies, technomads, digital wanderers, or travellers. Many refuse labels — arguing they're like any other citizen, except their workplace is in the internet cloud, and their home address is waiting in the next town down the road.
About the fundamentals of this lifestyle:
This growing nomadic subculture is looking for a simple, more adventurous lifestyle. The new nomads' turtle-like homes are a far cry from the yurts and tepees of their predecessors — but in another sense, they haven't come that far from the American folk icon, the hobo. Ramona Creel, 42, is a former Social Worker who now runs an ever-moving personal-organization coaching and consulting business. "I've always had career-ADD. Even when I lived in one place. So it's entirely natural for me to do a little bit of this and a little bit of that," says Ramona. She spoke on a cellphone from her sleek Airstream trailer. "I've called myself a 'Bedouin without the sand,' " Ramona says. "I function like everybody else. I just do it in different places. I'm living my life how I want, wherever I want to live it."
And relationships on wheels:
These energetic drifters, have not rejected community — or "home" in its most sentimental sense. Perhaps because of a philosophical connection based on wandering, the nomadic community is somehow more civil and less politically polarized than the broader America has become. Funny thing is, Ramona Creel says, when she lived in a suburban neighborhood, she didn't know her neighbors, despite daily face-to-face encounters. "This is actually a much more cohesive, connected community. Now I have friends in every part of the country. And a huge number of people I can call on for help at any time," she says. As in the larger society, relationships and love are part of the journey. Creel divorced on the road — then met a new love who has joined her travels. How conventional American can you get?
How I feel about being considered on the "fringe" of society:
When presented with the idea of a rubbertramp who's escaping society, she responds, "The people I have encountered on the road aren't ducking anything," she says. "They have chosen an alternative way of living. But it's just as valid as any brick-and-mortar existence."
Home — How Living Environment Shapes Our Lives
So this lovely picture was taken (in my living room) by a photo-journalist who interviewed me about the concept of "home" for a coffee table book. Unfortunately, she never got the project published — but here's what would have been in it, had the damned thing ever gotten off the ground:
"As a year-round gypsy and citizen of the world, I both literally and figuratively take my home with me wherever I go. But full-time RVing has taught me that 'home' is not a place or a thing."
"It isn't Stella-The-Excella (the 29-foot-long tin can that shelters me as I wanderlust my way across the country). It isn't the retro-cozy living environment I've built with my beloved Benjamin. It's not my cats or my stuff or the bed I curl up on at night — it isn't even the family of nomads who join me around a campfire after the sun goes down."
"'Home' is having an unequivocal feeling of belonging wherever I go."
"No matter where my travels take me, every new location is 'home.' It's where I plant my freak flag and create my art. Where I work and play and accumulate a lifetime full of memories. Where I share a bottle of wine and some good company with new friends. Where I explore and discover and expand my boundaries just a little bit past where they lay the day before. Home is where I live every moment to its fullest"
"What does 'home' mean to me?"
"It's the soul-certainty that the entire world is just sitting out there waiting to welcome me into its arms."
Save
Save
Click here for reuse options!


Copyright 2014 RamonaCreel.com
Ramona Creel is an award-winning 15-year veteran organizer and member of the National Association Of Professional Organizers. As well as having birthed "The A-To-Z Of Getting Organized," Ramona is also the author of "The Professional Organizer's Bible: A Slightly Irreverent And Completely Unorthodox Guide For Turning Clutter Into A Career"—and the creator of more than 200 "quick-start" business tools and templates for use by productivity professionals. She writes seven different blogs, has worked with hundreds of clients, and has delivered scores of presentations on getting organized. Ramona resides on the roads of America as a full-time RVer—living and working in a 29-foot Airstream. Learn more at and RamonaCreel.com.

If you would like to reprint this page, please contact me