Journalists seem to like what I say about self-employment. (God knows why, with the mouth on me — I guess a little profanity keeps "chained-to-your-desk" interesting.) Of course after toning the language down, I'm never quoted as accurately as I'd like. But at least no one can accuse me of a boring interview!
My focus is on psychological revelations and fundamental principles which make every aspect of daily life easier, rather than techniques that only apply to one aspect of clutter — but I also like to throw in weird little hacks rarely mentioned in most "categorize-and-systematize" articles. Here are my favorite bits of media stardom — and hey, if you need any snark-laden quotes for your next publication, gimme a holler!
HearPreneur — Why Did You Start Your Business?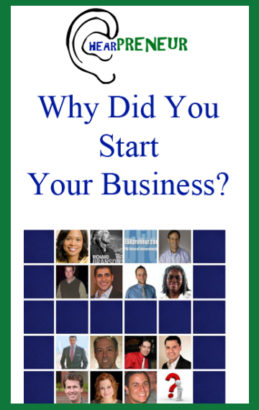 This publication is all about sharing stories from successful business owners to help inspire/educate the noobs in the room. And the article in which I appear? An ensemble piece about folks' entrepreneurial motivations:
Each business has an origin. Whether a multinational goliath or a local mom-and-pop enterprise, the inspiration for that journey can arise out of any direction — from monetary needs to the desire for a new challenge to discovering a passion for a unique project. No matter the tale, the background behind every business is what fuels its brand. So let's meet some of our featured entrepreneurs, to see what led them down this path.

Of course, I had to start with a meltdown:
"I had my career mid-life crisis early on — at the age of 26! I was a social worker, running a welfare-to-work program pretty much all by myself at the Atlanta Housing Authority. When I suggested to my boss that we really needed more resources and staff than just me if we were going to actually help our clients, I was essentially told that I was there to keep HUD happy — not to worry about whether my folks broke free from public housing. Not according to my job description!"
And then a look at my options:
"It was at that point I was done working for other people — but where would I go? The idea of starting a non-profit so I could keep serving the same clientele wasn't in the least bit appealing. (I've never been any good at begging for money.) What about entrepreneurship? My entire life, I'd been 'inventing' jobs for myself — selling my artistic creations, babysitting, tutoring, editing papers for my fellow students in college. I think I knew all along that I was meant to be the boss, but I wasn't sure doing what — I was an excellent problem-solver and naturally anal-retentive, but how do you turn that into a business?"
Finally, a little serendipitous pre-destination for ya:
Then I tripped over an episode of Oprah in which she featured Professional Organizing as a career and a light-bulb went on over my head — that was then, this is now, and I have been successfully supporting myself in this field for more than two decades. I now spend a good deal of my time teaching freelancers and consultants how to thrive as entrepreneurs, I've incorporated art and travel and writing into my business, and you couldn't pay me enough money to go back to working for someone else."

What Is Your Favorite Part Of Business?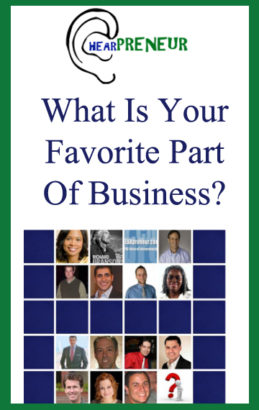 Apparently the Hearpreneur folks liked me, 'cuz they asked me back again for another feature — this time, on what I liked most about being the boss:
Every company owner has their favorite part of self-employment. Sort of like the cookie-vs-creme debate with oreos — one entrepreneur might absolutely love a particular aspect of day-to-day business administration that other colleagues absolutely hate. It's that love we're focused on today. For some, it might be getting to work from home and not being stuck in an office all day long. Others enjoy brainstorming, coming up with a truly original idea. Or it could be the feeling of excitement leading up to making a pitch. No matter what field you're in, there's always a favorite part to wax poetic about. So we've asked some entrepreneurs to share their own personal perferences.
Normally, I don't do superlatives — but this time around, I had no problem figuring out my fave:
"Empowering my clients, no doubt about it! As a professional organizer and accountability coach, I am all about teaching folks skills — the skills they need to be more productive, to eliminate clutter and frustration, to get healthy and out of debt, to make their regular routines a little easier, to find satisfying relationships and gratifying work, and especially the skills they need to discover their own unique path to happiness, to live each and every day with integrity. When a client tells me that my services have been more valuable to her than therapy, when she brags about a new accomplishment that she never could have achieved in her previous life, and then (most importantly) when she is able to maintain those changes on her own — then I KNOW that I have done my job!"
CEO BlogNation — What Makes Your Business Unique?

Yet another "tell your tale" style publication — this time taking a look at a pile of unique selling propositions:
In the current business climate, being unique is a key technique for getting noticed. If a company is to survive and thrive, it must an effort to stand out. Whether you pull of unusual marketing stunts, have products which need no introduction, or style yourself as an innovative CEO, having a defining quality is what customers will notice.
While I pride myself on being 73 different kinds of a weirdo, the one thing that's truly different about my company is its portability:
"I run my business from the road while traveling 365 days of the year, living and working out of a 29-foot Airstream travel trailer. About five years ago, my husband and I decided that we were fed up with cutting the grass and paying a mortgage and being stuck in one location — so we spent a year and a half downsizing from an 1800 square foot house to less than 200 square feet of RV space, figuring out how to get our mail and deposit checks and maintain an internet connection while mobile, and shifting our focus in the direction of work that we could do from anywhere in the U.S. What we discovered was that having a variety of income streams gave us the flexibility to travel without worrying about maintaining a location-dependent client base — I am a veteran professional organizer and coach, a published author and blogger, a public speaker, a photographer, and a travel writer — while my husband is a graphic artist, web programmer, and trainer (teaching WordPress design and Photoshop skills to both techies and non techies). While more and more younger working non-retirees are hitting the road, ours is still a fairly unique situation — and we are proud to call ourselves modern-day nomads!
AJC — Why I Love My Job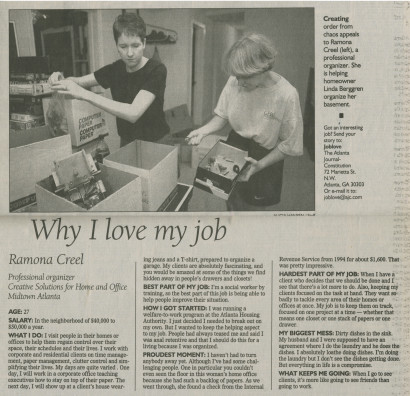 A real early piece of media attention — dig the boy-hair! I just love being able to brag about what I do and call it "PR:"
"I visit people in their homes and offices to help them regain control over their space, their schedules, their files, their jobs, their lives. One day I'll teach corporate executives how to stay on top of paper — the next I'll tackle a kitchen or kid's room or garage. My clients are absolutely fascinating, and you'd be amazed at the things we find in their drawers and closets!"
The best part of my job:
"I'm a Social Worker by trade, so I love the fact that I can still be in a helping profession, improving folks' quality of life, making a real difference. And I love my clients — each appointment is more like hanging out with a friend than going to work. My proudest moment (so far) was with a woman whose office was literally filled to halfway up the walls with paper. You couldn't see the floor for all the piles. As we sorted through everything, she found a refund check from the IRS for $1,600 — that was pretty impressive!"
The hardest part of my job:
"I spend a lot of time keeping my clients focused on the task at hand. They want so badly to tackle every area at the same time. My job is to keep them on track, making progress on their top priority, finishing one project before starting another — whether that means one closet or one stack of papers, or one drawer."
AJC — Professional Organizer Helps Clients Get Uncluttered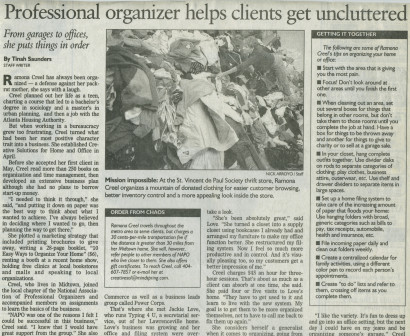 This is the very first piece of publicity I ever got — all about how I found my way to Professional Organizing:
Ramona Creel has always been organized — self-defense against her packrat mother, she says with a laugh. When her job as a Social Worker in a government bureaucracy became too frustrating, Creel turned what had been her most positive problem-solving character traits into a successful service business — as a Professional Organizer.
Plus a lovely client testimonial:
One of Creel's first clients was Jackie Love, owner of Type-4-U, a home-based secretarial service. Love's business was growing, both her office and filing systems were overflowing. "Ramona's been absolutely great. She cleaned out a junk closet, set it up as supply storage, rearranged my furniture to make my office function better, and restructured my filing system. Now I feel so much more productive and in control. And it's visually pleasing, too — so my customers get a better impression of me."
And a bit about why I don't niche:
Creel considers herself a generalist when it comes to her client base, going from home to office, from for-profit to non-profit throughout the week. "I love the variety. It's fun to dress up and be all corporate one day, then wear jeans and get dirty in someone's garage the next. I'm never bored!
Save
Save
Save
Save
Save
Save
Save
Save
Save
Save
Save
Save
Save
Save
Save
Save
Save
Save
Save
Save
Save
Save
Save
Save
Save
Save
Save
Save
Save
Save
Save
Save
Save
Save
Save
Click here for reuse options!


Copyright 2001 RamonaCreel.com
Ramona Creel is an award-winning 15-year veteran organizer and member of the National Association Of Professional Organizers. As well as having birthed "The A-To-Z Of Getting Organized," Ramona is also the author of "The Professional Organizer's Bible: A Slightly Irreverent And Completely Unorthodox Guide For Turning Clutter Into A Career"—and the creator of more than 200 "quick-start" business tools and templates for use by productivity professionals. She writes seven different blogs, has worked with hundreds of clients, and has delivered scores of presentations on getting organized. Ramona resides on the roads of America as a full-time RVer—living and working in a 29-foot Airstream. Learn more at and RamonaCreel.com.

If you would like to reprint this page, please contact me